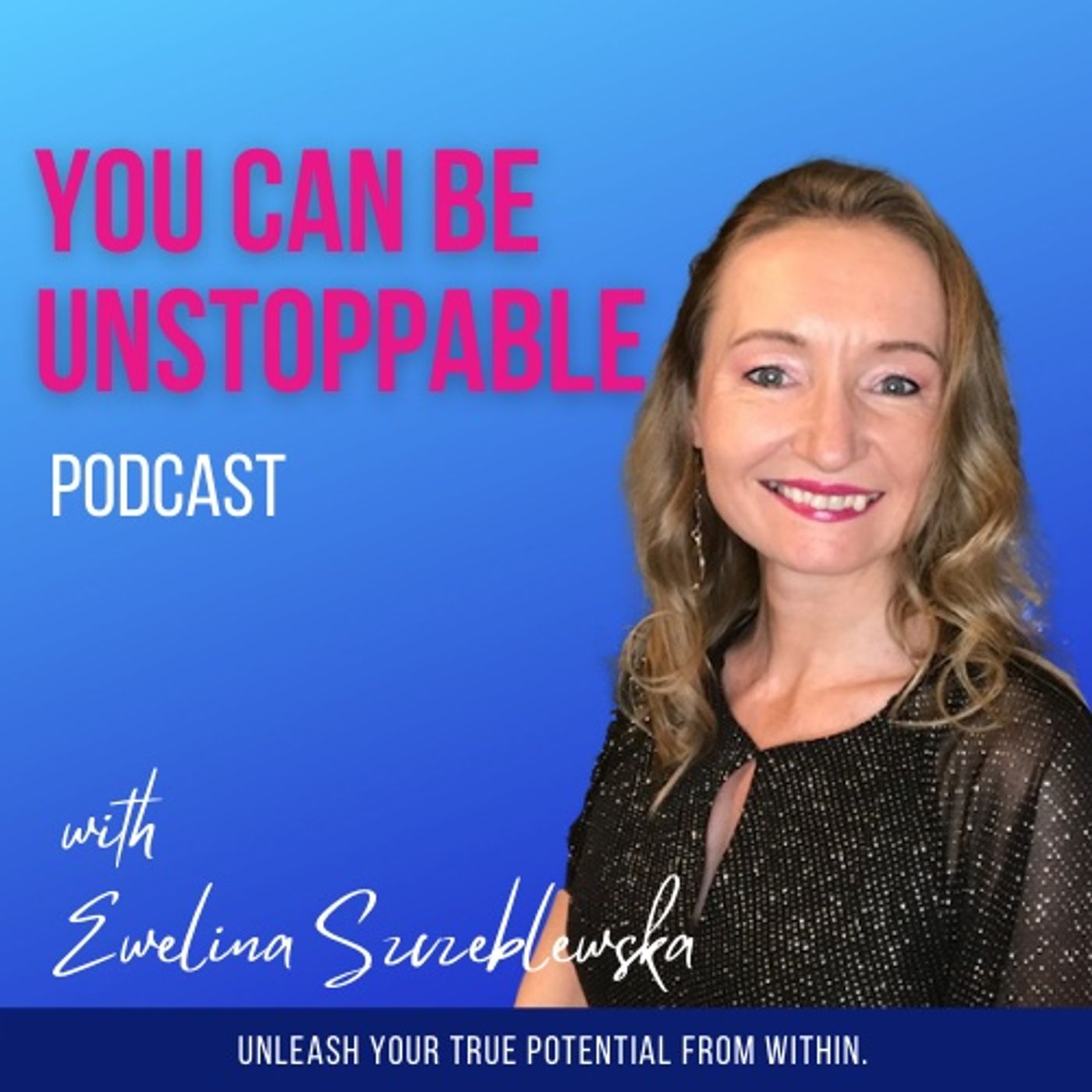 YOU CAN BE UNSTOPPABLE is a podcast for high-achieving, anxious, self-doubting overthinkers, who desire to create a successful life, business or career, without sacrificing their health or love life. I will share with you how to tap into the power of the subconscious mind & how to use its power. How to connect with yourself while fostering a healthy relationship with your body and mind. Learn to manage your emotions and become more resilient and present in all of your relationships. I am a passionate activist for SELF-LOVE & SELF-ESTEEM as keys to your success, and abundance, to have a happy and healthy life on your terms.
Episodes
Sunday May 07, 2023
Sunday May 07, 2023
How many of you feel stuck or stagnated in life, business or relationships?
Whatever you don't seem to work.
You forgot to experience JOY, as the story you hold onto is: 'I need to work hard to succeed'.
There is an incongruence between what you think you SHOULD be doing and what your soul desire.
𝘞𝘦 𝘭𝘪𝘷𝘦 𝘪𝘯 𝘢 𝘸𝘰𝘳𝘭𝘥 𝘵𝘩𝘢𝘵 𝘱𝘳𝘰𝘮𝘰𝘵𝘦𝘴 𝘥𝘪𝘴𝘤𝘰𝘯𝘯𝘦𝘤𝘵𝘪𝘰𝘯 𝘴𝘰 𝘪𝘵 𝘵𝘢𝘬𝘦𝘴 𝘤𝘰𝘶𝘳𝘢𝘨𝘦 𝘵𝘰 𝘭𝘪𝘷𝘦 𝘢𝘤𝘤𝘰𝘳𝘥𝘪𝘯𝘨 𝘵𝘰 𝘺𝘰𝘶𝘳 𝘳𝘶𝘭𝘦𝘴.
Let me ask you.
When was the last time you celebrated your wins?
How often do you say NO when you mean no?
Do you tolerate unacceptable behaviours as you don't want to rock the boat?
Can you honestly say you look after your mind, body and spirit?
And what I mean by that is eating healthy food, getting enough rest and sleep, exercising, spending time in nature, say YES only when you really mean it.
You get the picture.
So we know that something needs to change BUT are we doing something about it?
Are we just paying lip service?
So here are some key steps in getting unstuck as discussed by my guests Liz Keates and me:
✔️First is awareness
𝘞𝘦 𝘤𝘢𝘯'𝘵 𝘤𝘩𝘢𝘯𝘨𝘦 𝘸𝘩𝘢𝘵 𝘸𝘦 𝘥𝘰𝘯'𝘵 𝘬𝘯𝘰𝘸. 𝘞𝘦 𝘯𝘦𝘦𝘥 𝘵𝘰 𝘬𝘯𝘰𝘸 𝘸𝘩𝘢𝘵 𝘱𝘢𝘵𝘵𝘦𝘳𝘯𝘴 𝘰𝘧 𝘵𝘩𝘰𝘶𝘨𝘩𝘵 𝘰𝘳 𝘣𝘦𝘩𝘢𝘷𝘪𝘰𝘶𝘳 𝘢𝘳𝘦 𝘨𝘦𝘵𝘵𝘪𝘯𝘨 𝘪𝘯 𝘰𝘶𝘳 𝘸𝘢𝘺.
✔️Clarity
𝘞𝘦 𝘯𝘦𝘦𝘥 𝘵𝘰 𝘣𝘦 𝘤𝘭𝘦𝘢𝘳 𝘢𝘣𝘰𝘶𝘵 𝘸𝘩𝘢𝘵 𝘪𝘴 𝘵𝘩𝘢𝘵 𝘸𝘦 𝘸𝘢𝘯𝘵 𝘵𝘰 𝘢𝘤𝘩𝘪𝘦𝘷𝘦. 𝘞𝘩𝘦𝘳𝘦 𝘸𝘦 𝘢𝘳𝘦 𝘨𝘰𝘪𝘯𝘨.
✔️Become an observer of your thoughts.
𝘛𝘩𝘦𝘳𝘦 𝘪𝘴 𝘷𝘦𝘳𝘺 𝘭𝘪𝘵𝘵𝘭𝘦 𝘸𝘦 𝘤𝘢𝘯 𝘤𝘰𝘯𝘵𝘳𝘰𝘭 𝘣𝘶𝘵 𝘸𝘦 𝘤𝘢𝘯 𝘊𝘏𝘖𝘖𝘚𝘌 𝘰𝘶𝘳 𝘵𝘩𝘰𝘶𝘨𝘩𝘵𝘴.
✔️Cultivate personal power.
𝘋𝘰𝘯'𝘵 𝘭𝘦𝘵 𝘵𝘩𝘦 𝘦𝘹𝘵𝘦𝘳𝘯𝘢𝘭 𝘦𝘯𝘷𝘪𝘳𝘰𝘯𝘮𝘦𝘯𝘵 𝘥𝘪𝘤𝘵𝘢𝘵𝘦 𝘩𝘰𝘸 𝘺𝘰𝘶 𝘧𝘦𝘦𝘭. 𝘋𝘰𝘯'𝘵 𝘭𝘰𝘴𝘦 𝘺𝘰𝘶𝘳 𝘪𝘯𝘯𝘦𝘳 𝘱𝘦𝘢𝘤𝘦 𝘵𝘰 𝘺𝘰𝘶𝘳 𝘵𝘳𝘪𝘨𝘨𝘦𝘳𝘴.
✔️Celebrate your wins.
𝘍𝘰𝘤𝘶𝘴 𝘰𝘯 𝘸𝘩𝘢𝘵 𝘪𝘴 𝘸𝘰𝘳𝘬𝘪𝘯𝘨 𝘢𝘴 𝘸𝘦 𝘢𝘳𝘦 𝘸𝘩𝘦𝘳𝘦 𝘰𝘶𝘳 𝘢𝘵𝘵𝘦𝘯𝘵𝘪𝘰𝘯 𝘪𝘴.
✔️Silence/meditation
𝘐𝘯 𝘴𝘪𝘭𝘦𝘯𝘤𝘦, 𝘸𝘦 𝘤𝘢𝘯 𝘩𝘦𝘢𝘳 𝘮𝘰𝘳𝘦 𝘢𝘯𝘥 𝘴𝘦𝘦 𝘮𝘰𝘳𝘦. 𝘐𝘯 𝘴𝘪𝘭𝘦𝘯𝘤𝘦, 𝘸𝘦 𝘤𝘢𝘯 𝘦𝘢𝘴𝘪𝘭𝘺 𝘰𝘣𝘴𝘦𝘳𝘷𝘦 𝘰𝘶𝘳 𝘱𝘢𝘵𝘵𝘦𝘳𝘯𝘴. 𝘈𝘯𝘥 𝘪𝘯 𝘵𝘩𝘦 𝘱𝘳𝘦𝘴𝘦𝘯𝘵 𝘮𝘰𝘮𝘦𝘯𝘵, 𝘵𝘩𝘦𝘳𝘦 𝘪𝘴 𝘯𝘰 𝘳𝘰𝘰𝘮 𝘧𝘰𝘳 𝘭𝘢𝘤𝘬.
--------------------------------------------------------
LIKE THE EPISODE?
Please leave a review.
CONNECT WITH ME
Subscribe to our channel.
https://www.youtube.com/channel/UCIxk2yz1d93jQ-twChCx6Pg
IG
https://www.instagram.com/ewelina_j_szczeblewska/
LINKEDiN
https://www.linkedin.com/in/ewelina-szczeblewska/
FACEBOOK
https://www.facebook.com/bravingthebeing
💡 To book a consultation
https://calendly.com/evelina-consultation/ewelina-szczeblewska
evelina@bravingthebeing.com
💎 FREE Confidence Hypnotic Meditation
https://www.bravingthebeing.com/confidence
💡 Life is too short to live in chains of social norms and expectations!
-----------------------
Here is where you can find
Liz Keates.
Website
www.lizkeates.com
Instagram:
www.instagram.com/liz.keates
Facebook:
https://www.facebook.com/groups/meantformorewithlizkeates/